reading true story, by sally morgan: wanamurraganya the story of jack mcphee, in the bed. this quote is clear about how essential is to be in right environment: "there were rules at the settlement for everything, and i have to admit i found it very frustrating because i wasn't used to living in such a strict way. funnily enough though, i soon found myself becoming just like everyone else, and accepting that i was living in a gaolhouse. it was the kind of place that stopped you from wanting to really better yourself.
surely it is not only food what make us.
this morning i was reading again, relaxing in the bed, breakfast was also in bed 5dl of yummy watermelon, blended.
around midday me and mango went for swim and sun. we had fun as always, and today i swam as far as mango, usually i am to cold to swim as far. that made me happy.
later, hot bath, cold shower, reading /spaceship/ viewing some videos for bb. me and mango are getting excited about the fact that i may be in big brother house.
tonight i rang my sweet mum and she was bit busy, so we talk only 20minutes. she said ring on monday. she won very expensive holiday in sardinia for 2. she is going in europian spring time. wow, i am very happy for her. and lately she is happily telling me how she is looking after herself eating more fruit & veg. she sound more lively. unreal.
mango was today fasting and i enjoyed not too big and very sweet watermelon, some blended some as is, one nectarine, 2 avos, 2 tomatoes, 1 tiny cucumber /libanise as usual/
not long after we returned from beach short lived big storm arrived. tomatoes in garden was singing with joy as all plants, oh yeah, lot and lot of baby watermelons are sprouting out everywhere. i love power of life.
life with sweet mango, love, yummy fruit, magic sun and ocean is truly wonderful.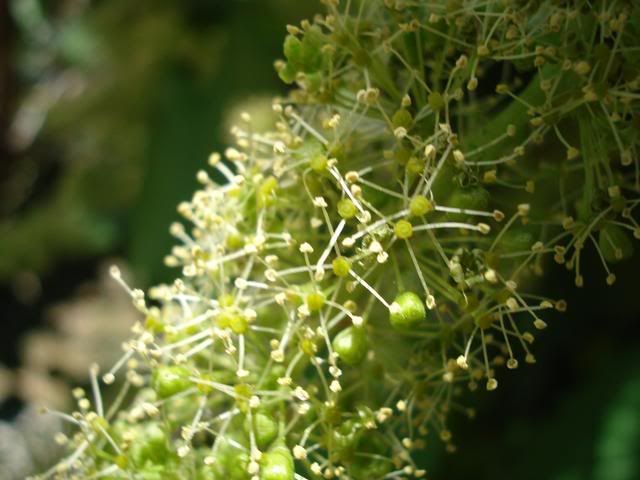 beautiful grape flowers...by me
Blogged with Flock