oh, today me and mango shared sweet durian, yeah it is a while since we enjoyed the durian bliss. it is always amazing and exciting to have other fruit after few days of fasting and mono juice feasting. today we got last durian in shop, try of mangoes, 1/2 box of sultana grapes, white nectarines, nectarines, peaches, longans, lychees, box of tomatoes, avos, big honeydew melon, small watermelon, figs, red paw paw
we did break watermelon juice feast with 1fig each and tasting some grapes, later on 1/3 of durian, some figs, red paw paw, nectarines, white nectarines, lychees, mango had some avo and cherry tomatoes from our garden.
mango created table of fruits we had and some dry fasting in last 10 days see here:
http://mangodurian.blogspot.com/2008/02/days-of-fasting-and-feasting-february.html
every other time when i ate other fruit after fast & mono juice feast i felt like i fall from skies on the earth. this time i am still in the skies. hmm...
i also experienced very very mild detox. some short mood swings in last two days, and last night i sneezed few times and after i felt very week/1hour/rest of the time i was peaceful, satisfied, at times euphoric.
yesterday was all day raining and bit cold, so me and mango spend most of the day in our bed, talking, reading, relaxing, etc...
life is yummy,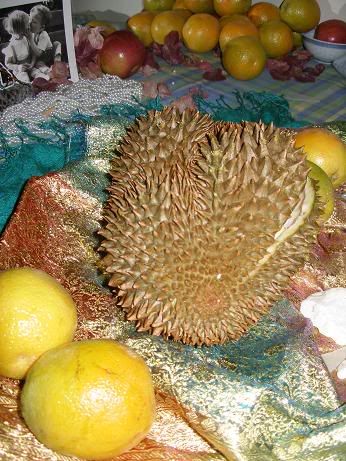 magic durian
Blogged with Flock