mango was up early and he ate some fruit. much later we shared blended honeydew melon 6dl each, my breakfast. few hours later we went and got some fruit: box of very yummy sultana grapes, white nectarines, longans, 3 paw paw,2 magic durians, figs, 2 rockmelons, avos,2 telegraf cucumbers.
i also got some vitamins for my friend, so i went see her right away after mango carried all our yummy fruit in our shoebox.
so it was about 5pm when me and mango shared very tasty magic durian. it had many amazing flavors and so creamy texture. oh, how i wished i can eat this durian for ever. me and mango are on the same durian wavelength... blended honeydew melon, fresh figs, two kinds green and dark. avo, only mango. well, i was tempted but i decided i prefer the way i feel without avo.
fruitarian lifestyle is so beautiful, i love to be surrounded by colorful living fruits. i am happy i am not confused about what to drink and eat, i can fully relax my mind about it free of nutritional and health worries free of question marks...
it is so perfect to live in cooking free place; free from stinky toxic fumes. raw fresh fruit is blessing in so many ways.
i love fruit and fruit love me back.
life is precious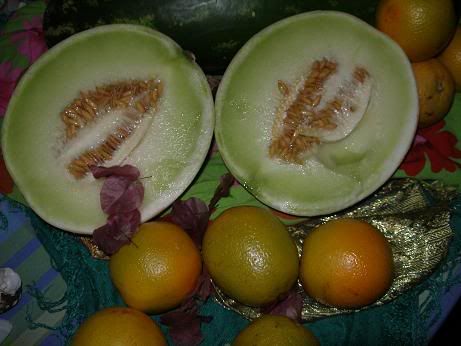 honeydew melon and oranges /2006 shoebox/
Blogged with Flock