i find this article interesting and i thought it would be nice to share it with you
benefits of the fruitarian diet
Fruitarians are one step up from a Raw Food diet. They focus on eating only raw fruits and seeds.
[i focus on raw fresh fruit only]
Fruitarians, along with Raw Foodists believe that eating cooked food is harmful and that cooked food actually causes disease to develop due to toxic build up in our bodies.
For Fruitarians, cooked food is an addiction that needs to be broken in order to truly experience the euphoria of perfect health and freedom. There is a lot of weight in their addiction argument, looking at how many people have issues with overeating and emotional eating. It is evident that people do have emotional ties with food that go beyond eating for survival. Eating a fruitarian diet is meant to allow one to face life's events and issues without turning to comfort foods to fill the emotional void.
Although the road to becoming a Fruitarian can be difficult, there are some serious benefits in following the path. Benefits you can expect to receive among others:
- A perfectly calm and clear mind that will allow ideas and creativity to abound. The detoxification process allows for perfect harmony between all of your bodily systems allowing for the highest degree of cooperation and balance within yourself.
- Healing from all wounds and diseases that may be in your body. You will even experience healing of developing problems that you had not even discovered yet.
- Freedom from constipation, insomnia, depression, stress, and fatigue.
- A huge increase in the strength of your immune system allowing your body to be much more resistant to allergies, bacteria and viruses.
- A return of your libido and a boost to your fertility.
- In appearance you will notice clear skin, bright eyes, strong nails and soft shiny hair. You will also notice a huge decrease or even elimination in body odor. Your self-esteem will dramatically improve as you feel a love for yourself and your body that is very difficult to describe.
- Your body will be rid of all excess weight and your cellulite will disappear. Your body will take the form that it was meant to be, which may be considerably different than how it is now.
The empowering feeling you develop in choosing to eat a fruitarian diet will help you to make better choices for yourself in all of your decisions. You will develop a much greater sense of self-control.
- You will see a dramatic improvement in your ability to work long hours without feeling run down.
- The ability of your body to recover from injury will be rapidly increased compared to someone who eats a cooked food diet.
Imagine walking into your home and you seeing it full of garbage. Imagine trying to be healthy and efficient in such a mess. That is how our bodies feel when overloaded with toxins from the processed foods we have been consuming. How much better would you feel to be in a home that is spotless, organized and bright with no clutter at all. That is how you can feel about the inside of your body. Eating a fruitarian diet will make you feel like a kid again and you will find yourself being able to keep up with little kids when playing. What is also pretty amazing is that you also start to get that child-like imagination and wonder back into your thoughts which makes life a lot more exciting to live each day.
Transitioning to a Fruitarian diet from a Standard American Diet (SAD) can be difficult. Detoxifying physically is hard enough in itself, but you have to realize that you will also need to detoxify emotionally. When you are forced to leave your comfort foods behind you may find yourself scared and almost "naked" because you have nothing left to hide behind. Take all this into consideration when deciding to take the plunge, research and fully understand what is going to happen to your mind and body during the transition.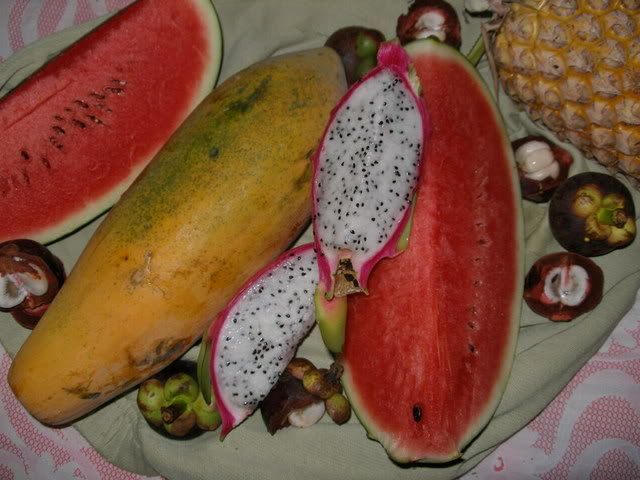 sweet fruit me and mango shared in thailand (may2006)