within my legs on and off since turning fruitarian, and they feel amazing. This time, after many months of absence, they arrived stronger than ever, are covering a larger area, and lasting a lot longer.. This is always very special and exciting for me. I've always believed that i would be healed one day, and i am looking forward to the time when i am going to walk as i did before my severe spinal injury in a car accident. i love walking. and jumping and running...
i love fruit as well, and i am, almost daily sharing with sweet Mango very yummy sweet and creamy full of tasty surprises, mighty durians. yum, yum, yum. many times in bed. i enjoy eating in bed, especially durian, as the bedding pick up and hold for a day or two on the sweet durian aroma. yum.
the rockmelons are also very tasty and fully in the season, and me and Mango are drinking them away, and today we ate half of a huge one each. Mango was about 4 years young, and i felt similar, and we shared some rockmelon euphoric giggles.
pealed tomatoes and lebanese cucumbers are very sweet and we chop them and mix them with very hot chilies. Mango has his with avocado.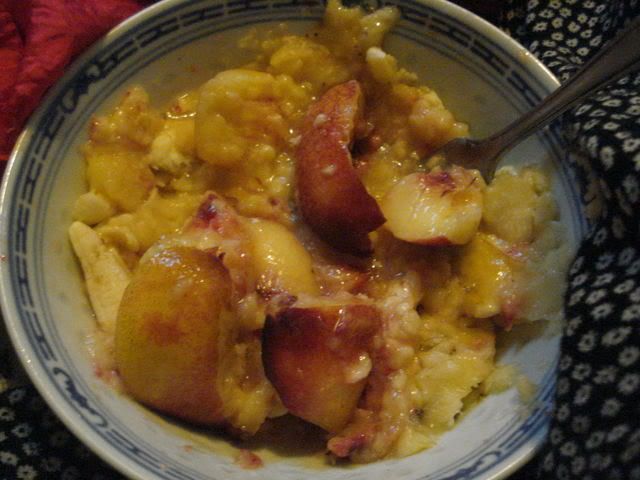 delicious white nectarine and banana mush
after some months with no interest in bananas, i got strong banana cravings, so we got some on our last fruit shopping, and they were/are just heavenly. mango loves them with avocado mashed up by fork. and me, 2 bananas 2 white nectarines fork mashed, one of my banana favorite mixes. and at times we also eat a banana or two, as is. bananas were for many many years my number one fruit. now, i have so many favorites! i love durian, paw paw, grapes, mangoes, passion fruit, melons, figs, pineapples, mangosteen, longan, to name just few...
watermelons are waiting patiently in our shoebox to be juiced and drunk by me and mango. our regular monthly raw fresh fruit juice feast is near. we got them at a friendly price and they are fresh and very cute.
we are enjoying longans and lychees, sweet tamarind, we ate a box of sultana grapes and for last 4 days we have been drinking a second box of very sweet green grapes, yes, they are fully in season now, and very very sweet. yum.
yes, fruit is beautiful.
sunday markets were fun as usual.
sunshine is with us daily again and we regularly enjoy a lovely time at a beach just around the corner, sunbasking, relaxing, swimming, giggleling... as usual.
i've had a break from reading (too much)
i am writing a little bit more.
i love my fruitarian life.
i love sharing my fruitful fruitarian life with sweet, sweet, sweet, fruitarian Mango.
piglet is looking hungry and excited, i think he is after my raw fresh banana white nectarine mush.
love is beautiful.