with me is
HERE
only one click away. there are also interviews with some others, all organized by sweet fruitling mango :) i read them all, and it is very interesting to see how much we all have in common, but also there is obvious diversity in perception and understanding of fruit. i am happy to see there are at least few earthlings on fruit path with strong need to share their experiences with others.
today was warm sunny day so we settled for magic durian picnic on lawn next to our happy garden, but very soon we discovered that our durian is not as sweet and yummy as we wanted to be, so we decided to blend it with raw fresh crimson grapes juice and we end up with very sweet and yummy cream. yum.
durian crimson grapes cream
orange grapefruit tangerine juice 5dl
tomato libanise cucumber avocado chili
avocado
tomato
today we bought: durians 2, tomatoes 6kg, avocados try, cucumbers 2kg, apples 1kg, mandarins 2kg, bananas 2kg.
me and mango we had sweet fruitful and peaceful day...
life is beautiful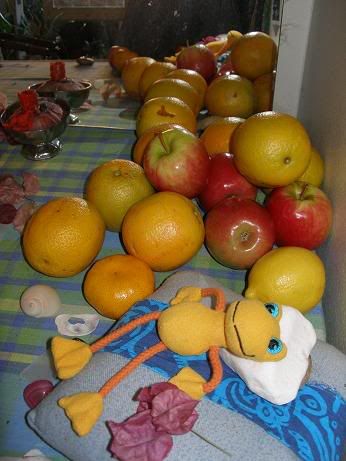 fruitarian bliss (me)