yeah, i am still avo free and i am still free from avo cravings. yesterday mango ate avo on front of me and i was not even slightly tempted. this is proving my theory that if i want to say no to anything i have to set my mind to it. i changed my mind about the value of avocado in my life.
without avocado for about week i feel incredibly much better and i am sure i will feel even better as time goes by.
yesterday me and mango enjoyed rock melon /blended/twice, mango blended in grape juice twice, tomatoes, cucumbers, white nectarines, some delicious tiny green grapes we got earlier in the day. some avos only mango. few cherry tomatoes from our garden.
it was another rainy day so we send most of it in our shoebox. we only left to pay for a car insurance and we got some watermelons, white nectarines and very yummy green tiny grapes. last year we had no grapes at all, it was bad season, they look very sick. this year they are back to healthy yummy juicy existence.
me and mango had sweet, peaceful, giggly and relaxing day...
life is sweet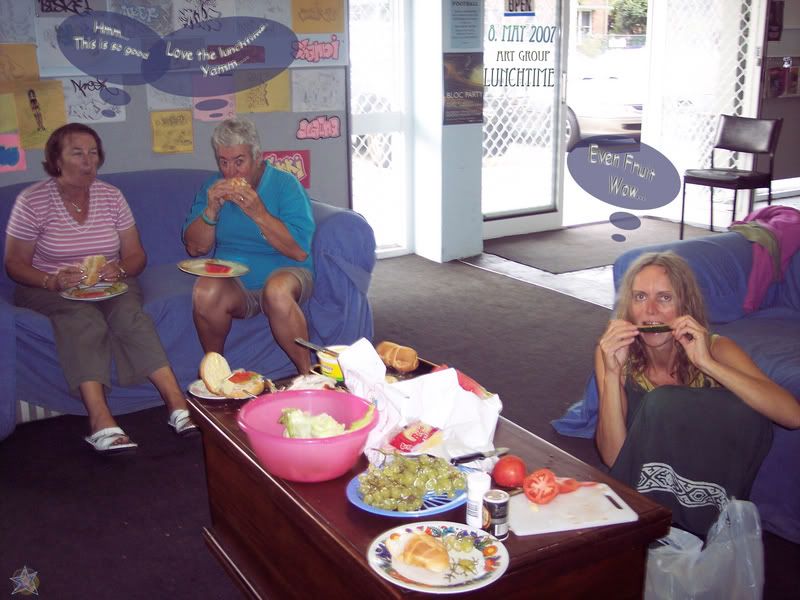 launch at art group about year ago, enjoying watermelon after dry fast and orange juice days...on this picture it is obvious that we are what we eat.
Blogged with Flock