yes, winter time arrived with yummy winter fruit season: citrus fruit, golden kiwi are our favorites. i love fruit seasons, it is always so exciting, always something new again...like a new season of sweet and juicy oranges with it's delicious fresh refreshing life giving juices. i always get cravings for seasonal fruit few weeks before it arrive and i am joyfully looking forward to enjoy them with joy! yes, raw fresh fruit give me lot of joy, euphoria and giggles.
me and mango we are eating only raw fresh fruit in season. i do not even have appetite or crave the other season fruit. raw fresh fruit in it's season, that is what i want, and i am lucky i give to myself what i want, happy to know what is the best for me. natural body wants naturally natural food: raw fresh fruit in it's season.
once, about 7years back i was visiting czech republic and i was mad about one kind of apple and so i took about 4kg with me when me and my mum left by bus for 3 weeks holiday in south italy. but from day one i lost interest in the czech apples, and i was enjoying the very yummy persimmons, peaches, grapes, figs, etc. from very friendly and cheap local fruit shop just around the corner, yeah, we were getting our fruit daily on the way from the beach. also as gift from one gentlemen: freshly picked figs daily. now, me and my mum we do not like waist anything, especially food, but we just did not want and never ate a czech apples. we gave some away, and left the rest behind...i find it interesting how quickly my body react to different climate. so when i travel i naturally always want eat the fruit in the season of the country i am in.
yesterday and today is raining, it is nice change after sunny may. the land is happy, including our garden.
me and mango we are sharing juices from green grapes, and eating durians, avos, tomatoes, cucumbers, chili, golden kiwis, persimmons, pineapples, bananas, i am sure i forgot something...
me: lately not much reading and writing, lot of thinking, relaxing. long hot baths followed by very cold short showers. enjoying fruity days with the most sweet mango.
life is sweet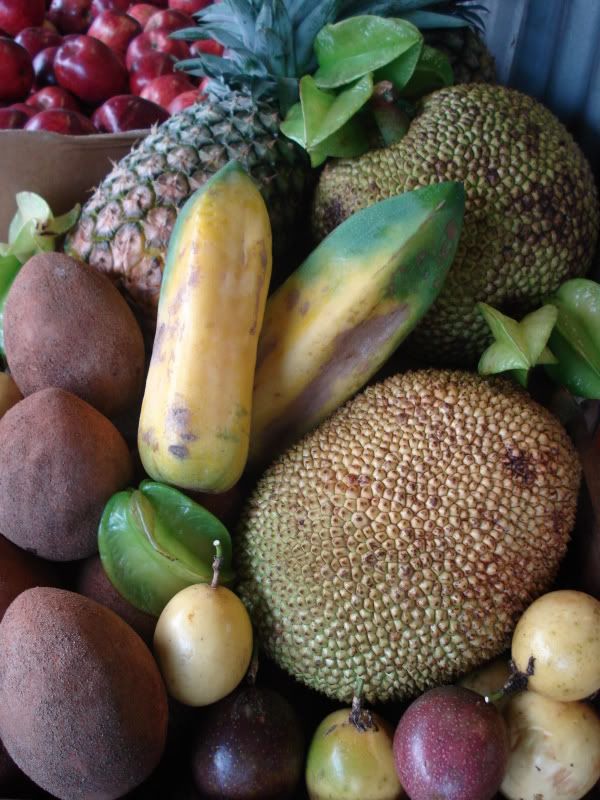 raw fresh fruit is so beautiful and tasty...