yesterday was sunny day, i was walking bare foot, to meet mango in the little bay. he left bit ahead me, i was walking slowly, enjoying hot sun and the view, the best is when little bay appears and even better when i see mango walking along the shore...
we had very nice relaxing time on the beach, and we went for swim 3 times. ocean was so beautiful and clean, i am so thankful for such special place so near by.
before beach we drank blended watermelon 5dl each. yum!
on the beach we shared 3 oranges as is /i was spiting the pulp/
after beach few more watermelon juices, later on 5 pealed and grated apples,
i had very beautiful day, happy and relaxing.
aaaaaaaaaaaaaaaaaaaaaaaaaaaaaaaaaaaaaaaaaaaaaaaaaaaaaaaaaaaaaaaaaaaaaaaaaaaaaaaaaaaaaa
today i spend most of the day visiting friend. before i left i had orange & grapefruit juice 5dl. after 4pm i shared with sweet mango 2 not big enough red paw paws they were just heavenly. bit later on 1/2 avo each, 2 tomatoes only me, later on one avo each, later mango had orange and me peeled ya pear.
around 5pm me and mango replant hibiscus, avo tree, nectarine tree and citrus tree from our garden in the middle of big front grass area. we had lot of fun. tomorrow suppose to rain.
i am spending very little time in cyber space.
life is beautiful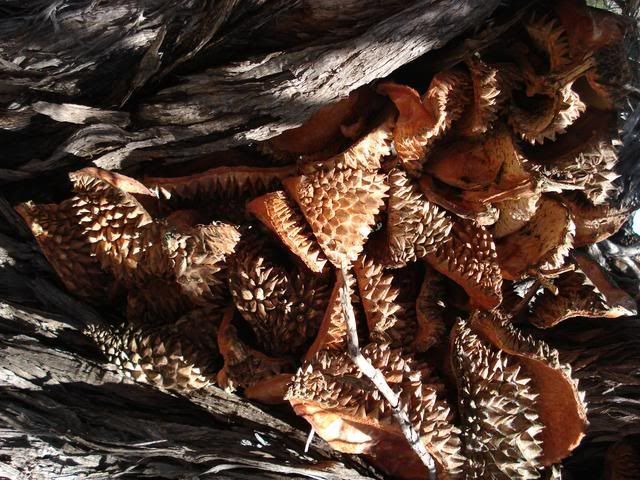 mango's "durian tree" created from durians we shared near by
Blogged with Flock