began with a yummy mango orange drink, still our favourite, the mangoes are just heavenly and the valencia oranges sweet as...
the first day was a local sunday market one, and we had our first drink around 1pm, it was a freshly squeezed orange juice by mango, we drank one orange each. we arrived back in our shoebox around 3pm and we had several orange mango drinks til 6pm.
we prepaid for a spot at the local markets for 13 sundays, it was a good deal plus we have some stuff to sell. i truly enjoy interacting with other people and having a "little shop". i used to play as a kid at my grandmas making my little shop selling goods to my imaginary customers it was one of my many favorites, i never was and i never am bored. well, it is nice to be able to do what i always enjoyed, only on a different level and different form, i am more life experienced and my customers are not imaginary. i like the markets better than a shop because i can be outside.
on monday, the second day, we drank orange mango mix all day. on tuesday, the third day, we enjoyed a few mango orange drinks and two drinks made from raw fresh pineapple apple orange and kiwi, and one from pineapple apple orange mix. all raw fresh and very tasty. all 1/2 litre at times bit over as always.
yesterday, the third day, was for me a bit dramatic, i went trough mild detox, i had a few short mood swings, my emotions were running high, i wished i could stay in bed with a book, but i went along with mango to our second session of the digital camera for beginners course. we had a good time despite my "moods", we took some nice pictures and we learned some new stuff. from about 3pm my mood swings left me and i was back to myself.
all last week was peaceful relaxing and at times busy.
on the monday we had three awesome swims, the ocean was cold at first but in a few seconds very enjoyable, i was moving fast so i was able to stay in the water as long as i could. i love swimming. sun ray catching, relaxing, enjoying mango's company, we also munched on one big mango each and we used the skins for our skin.
on tuesday (last week - still) we had our first digital camera course day
on wednesday i visited a friend
on thursday a sweet day with mango only
on friday i visited another friend, i was traveling on public transport, i got a sore back from the bus seat and headache for a half hour from the city pollution
on saturday i visited the same friend as on wednesday.
all last week, before we started drinking only raw fresh fruit, we drank mostly orange mango mix, and we ate some avos, tomatoes, cucumbers and a few not so hot chillies. and a fair few magic sweet and yummy durians yum, yum, yum...
life is yummy.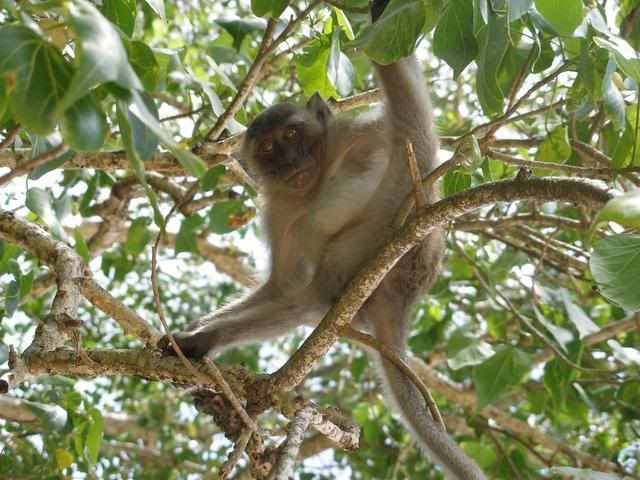 monkey in thailand 2006 holiday with sweet mango