with the czech language, and i had a break from writing in english. yes, i find some of the english grammar a bit difficult, but i still like to write in english, and the best for me would be to write in english and czech together. just use the words that suit the best for what i would like to say. this is the way that i at times hand write my personal notes.
me and mango we are continuing having one beautiful and fruitful day after another. even when things don't always not come out as we wish, we don't let it get to us and we smile it off... :) it is easy as we believe that everything happens for a reason.
last sunday, we missed out on our market day, it was raining at 5 in the morning, so mango came back to bed for more sweet sleep. and i slept as long as i needed, and when i woke up to a beautiful sunny day, mango was busy for a few hours, making some money, and we spent together the rest of the day.
this sunday we did the markets and it was fun, even though i was a bit sleepy around midday, and we did not make much money. the sun was shining and sky was blue, we relaxed, and we drank a fresh orange juice made by mango on the spot three times, and i ate 2 big bananas, mango had a little bit from me, and he also had two avocados. back in our shoebox, we enjoyed a raw fresh rockmelon drink, later on another one, and then as the last meal of the day, king of the fruit, the mighty and the most sweet durian. yum, yum, yum... this time creamy and juicy, with a lot of amazing flavours.
yes, the durians are still very tasty and we just can't get enough of them. so we are having one almost daily and just a few days ago we had two; we had one small but very creamy and delicious durian and i was craving another one so badly, that a few hours later mango left to get an another one, and we enjoyed the second very yummy durian of the day. and i was satisfied. i still enjoy bananas when they are available, and i sometimes eat just one or two, and at times four, five or six yummy bananas. today a girl from the next market stall gave us 2 huge lady finger bananas, i ate one soon after, yum. mango told her and her friend that we live on just fruit.
lately we are drinking lots of green fresh grapes, sweet rockmelons, watermelons, oranges, oranges pineapples and bananas mix, and we are eating, grapes, a little bit of watermelon, pealed tomatoes and lebanese cucumbers, hot, or less hot chillies. sweet tamarind. and mango only, avocado.
it is hot and sunny and me and mango are on the beach about twice a week, swimming and relaxing in the sun.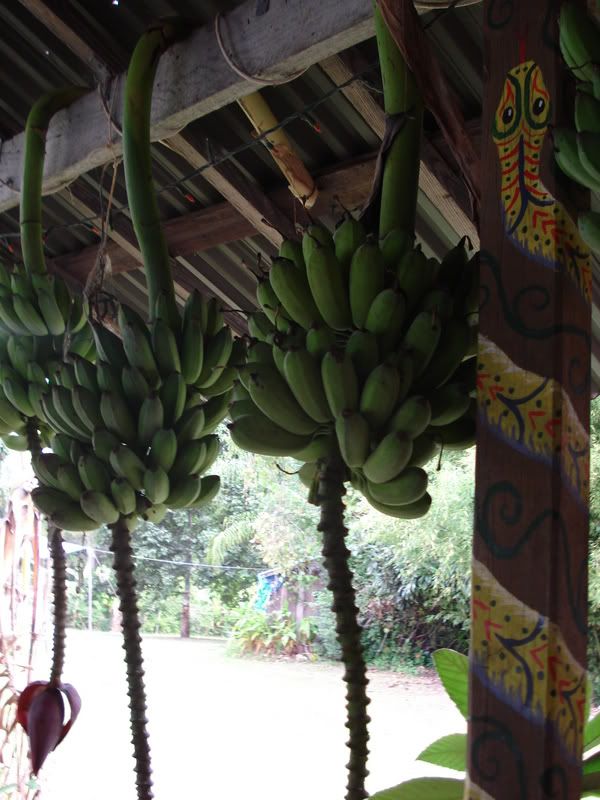 home grown bananas are getting ready :)