form a very warm turkey to cold and almost sunless days and torrential rains were also in action. it was not the best welcome, as we both love sunny, warm or hot days.
i did not mind so much, as the thought that in six weeks i would be returning in to sunny warm oz, where i would warm up for sure, but mum had been hoping to be warmed by the czech summer, she had been looking so much forward to the whole autumn, winter and spring, and now the summer was not delivering what she had waited for, so she was complaining: "this is not a summer, the half of it is over, and before i know it, the long icy winter will be here again". and so on she winged, she just could not get over it, that she was so cold, and the smile often disappeared from her face.
it was not easy for me and romana to talk my mum in to joining me and visiting romana in
as
(the town where romana lives), we both wanted it and in the end we succeeded, mum agreed, and only two days after returning form turkey, romana and her son come over to pick us up and take us with them to their home.
we had a peaceful and great time, and we were also discussing a new serious situation with help of tarot cards. mainly my mum and i were reading, romana a little bit too. we were reading cards together for others often. i learned how to read from my mum and romana is learning from books. mum and romana see each other very rarely, they keep in touch mainly by phone, they are both too busy so, there is not much contact. the discussion was very intensive and it took two days, before something important sprang from the darkness into the light..
of course there was plenty of time spent with three year young david, for walks and visits.. mum left after two days, and there was only a few days left until the weekend, for which i had planned a get together with czech raw food people from the vitarian.cz forum, but our days spent together went so fast, that i realized that i could not leave romana alone, i felt that she needed me to be there with and for her, and my feelings were proven to be right when she asked me to stay a bit longer, so i could not make another choice, than to say goodbye to the raw food weekend in the country i had been looking forward to so much.
romana means a lot to me, she is my big love, we have only met each other a few times, when she was a baby, and then fifteen years later and we fell in love straight away. and it took a long time, before we began to see each other a bit more often. it is always like a beautiful dream, when we are together. our souls are happy together. so i ended up staying with her and david till wednesday, when i traveled back to stay with mum, dad etc. and on friday i was traveling again to skalna, for a school reunion. i had been looking forward to it like a little girl..
more about that, next time.. (this all took place toward the end of june and beginning of july this year!)
life is beautiful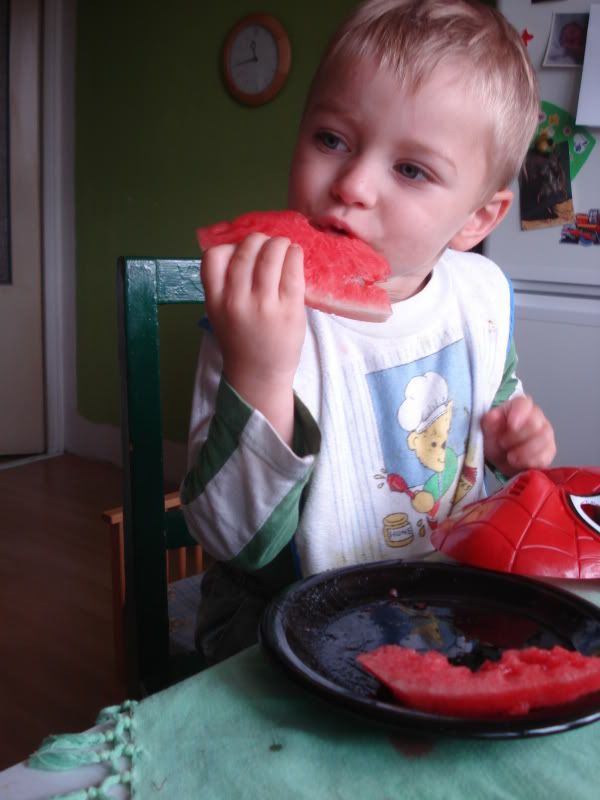 little david is enjoying watermelon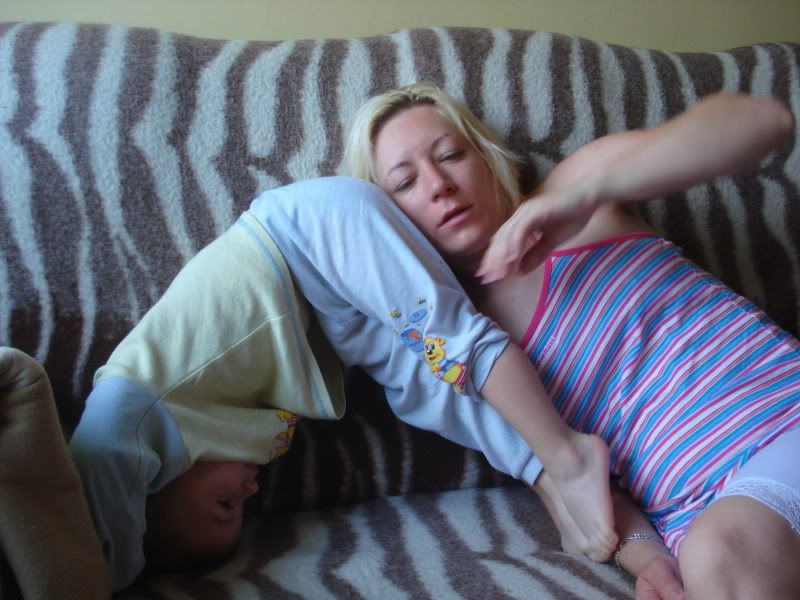 david and romana are playing morning exercise
romana and david, my love