is my next destination, i am looking forward hot sun and blue sea to swim in. i am leaving tomorrow night along with my mum, we love each other and we enjoy our time together, especially on our holidays, were we have freedom from many tasks and others. the only 3 hours 20 minutes short flight from prague to zakynthos is going take us, to most green part of greece, on 9km long sandy beach, the home for protected turtles named caretta-caretta. and now is the time when the babies turtles going leave their eggs and we may see them on their first way in to sea of many blue colors. no engines and water sports are permitted. we are going to live in studio with small kithen shower and wc, and we are going to buy our fruit and other stuff for mum, to eat, she is eating more fruit than 2years ago, and she drink fruit juices with much biger zest, she look much better as well. while on holidays with me she eat mostly raw fresh fruit. now she is in love with
raw fresh the whole watermelon juice
it is surely very powerful stuff, i blend the pink stuff then i juice the skin in juicer and then i mix it all up. so far we are lucky, all watermelons were all sweet us can be. mum have some digestive problems and she is not regular, trying make it work with some herbal teas, but since she is drinking her favorite whole watermelon drink, she is smiling, telling me how everything is working as it should be, and she is amazed how easy and fast the whole watermelon drink work for her. she also love
raw fresh red grapefruit and orange juice
i usually made for her when i am making one for myself. today i made 1 liter and half and she had heaps. this is only juice she is making for herself when i am not here. otherwise she tell me, she is not having time. yes,
time management
is a good one to know. i do simplify and i find it very rewarding, since mum cook in stinky kitchen, inhaling so many toxins, i am on sunny veranda at near by friend's place relaxing on the sun, chatting with people whom are present. they are all busy and i have permission to be there whenever i want to. i also enjoy interesting
wander walks along or in very near by forest
and behold, today i have seen 2 dear jumping running, full of life and so beautiful, and yet, some people would shoot them and eat them...forest , their home is nice green and natural, it was obvious to me they are having dear fun under summer morning sun. i am sure they went see some dear friends. i am lucky i am so close to nature in tiny town surrounded by black forest, without shops. so
i stay here with my family /some of/ and some come visit us and some friends as well...
i am drinking lot of oranges, grapefruits, grapes, whole watermelon /skin included/eating some bananas, pears, nectarines, and
life is sweet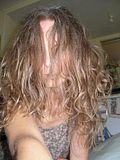 my hair getting lately lot of compliments...