happened on weekend 16. - 18. june 2009 on my holiday in bohemia
my parents, as always gave me a lift to the railway station at marianske lazne, and i set out on an about eight hour long journey to the town telc, a day earlier, on thursday, because i wanted to enjoy not only singing, but also the medieval/ancient and picturesque telc. besides, the course began on friday afternoon, around five, so i wanted to have some rest after the long train journey, before i got into the singing.
oh, because i like travelling, the journey alone was a beautiful experience for me; as always i found a seat by the window, so i could watch the plentiful beauty of nature, there was plenty to adore and my soul was in awe over the beautiful forests, flowery meadows, rivers, lakes and the sky was full of you my god as well. most of all i was taken aback by the amazing landscape from prague all the way to telc, and the closer the train approached telc, the beauty was more beautiful. the sun was shining on the way, and on top of it, i was looking forward to singing and telc like a little girl, smiling plentifully. the pleasant journey passed by quickly and before i knew it i got out at telc's tiny railway station.
hmmm, where is that famous telc, i was asking myself, because as far i could see, there was only the railway station surrounded by lovely nature, while i adored the ancient trees, i decided to call a taxi. i had no phone on me, and i hadn't noticed a phone box either, but i noticed that not far from me, sat a girl, and i said hello, and i asked her if se had a mobile phone and i would pay her if she would be so kind and ring a taxi for me. she said that taxis in telc are not easily available, and they have to be booked out in advance and that the town was not too far, and she described the way there for me. i said thankyou for her information, and i was thinking to myself that i did not feel like walking with a full bag for a longer time, i understood, that with my slow walking pace, it may take me almost an hour to get there. and as i was standing there thinking what was i going to do, some other girl also sitting nearby who had overheard the earlier conversation, offered me kindly a lift into town, if i would wait for her, while she waved goodbye to her friend leaving on a train soon. wow, i thanked her with joy, and i said that i would be very happy to wait and i would pay her for a lift, and she said, that that would not be necessary as she was going that way anyway.
i was happy to be so lucky, and we were very soon travelling toward the tiny town, the lovely girl stopped her car near the old town square, and she gave me directions on how to get there, and after about five minutes of my slow pace i ran into a house advertising accommodation, I rang the bell and a lovely lady answered the door and i asked her if i could stay for a night, she scanned me from my loose wild hair down to my bare feet, she hesitated, but finally she gave me a big smile and said: "yes i have a room for you, please come in" and she showed me a cosy room with a huge comfy bed, not far from the wc and shower, and a big glass door to the little but very beautiful garden. i forgot to take a picture of it. i paid for one night, had a shower and ate in the garden two handfuls of lychees, which i also ate throughout my train journey. lychee is a great fruit for travels, it is relatively light, and nicely wrapped in its thin but strong skin, it does not get bruised, it is highly juicy and very filling, i usually eat one or two handfuls to satisfy my hunger and sometimes just one, two or three pieces. yum. after a fruity yummy dinner i went for a walk trough telc's picturesque little square, which was much smaller than i had imagined, so i had plenty of time to take a rest on a bench and enjoy the old spirit of the ancient town and more so, the more beautiful sky, much much older than old town telc.
i woke up to a lovely sunny morning, it was nicely warm as well, i had a shower, got dry in the little garden, and soon after i wondered off to get some yummy fruit. the town square had mainly shops with touristy stuff tempting tourists to get in and spent, so i took off in the opposite direction, according to the advise of my landlady, when she, after inquiring, told me the whereabouts of the nearest fruit shops. within ten minutes of slow walking, i found two shops selling a lot of fruit and i bought 1kg of very sweet apricots, and half of an also sweet and yummy watermelon. after my short shopping i returned to my room and i sat in the garden and ate with a healthy appetite about a half kg of very soft and tasty apricots. then i relaxed for a while and just after ten i said goodbye to the land lady and i was off to the town square, i sat on a sunny bench and i also took a few pictures, and around midday i walked slowly to the former monastery, where i had booked accommodation and the singing course was to be held.
and as soon as i walked into the big pretentious building and former monastery, which had been renovated and converted into an educational centre with accommodation, and when i began walking upstairs toward the reception, two lovely, happy girls walked past me, and to my amazement they addressed me by my name, i asked them from where they know me and one of them answered: "from the internet, we are working for the serafin company, we are teachers of the water colour course, and our boss sent the link of your blog to many of us." i was pleasantly surprised and very shortly the girls, who were carrying heavy loads of big drawing papers, disappeared from my view, and in no time, i announced myself at the reception, where an older gentleman, who was the boss of the place, greeted me as if i was his good old friend, and yes, he had also heard about me, you know, i was possibly, maybe the first czech-australian who had attended the courses by serafin, and therefore a bit famous.
and the lovely man, (i forgot his name) invited me to see their amazing garden, where to my nice surprise, there was also a beautiful river. and then he took me to some parts of the former monastery, and he told me a lot of interesting things about the building, garden and himself, and we surprised a busy working lady, in the dining room and we all had a lively conversation together, at this time mainly about me and australia. the whole excursion took about an hour, i left my bag in reception and when we returned the lovely man said goodbye and went home, and i checked into my attic room, with a lookout to the magic garden and river. i got all my fruit and some of my things out of my bag and i walked off in to the beautiful sunny blooming garden, which carried scent of the flowers, river and summer
i walked through the lovely garden and then i sat on a small river jetty and i felt so awesome, and i dangled my legs in the river and soon i began singing quietly and later on i sang at the top of my voice. just before five i returned to my room, ate the rest of the sweet apricots and i went in to the library without books, where the singing with right brain hemisphere course was to be held. we all arrived on time, and the teacher, dana, introduced her assistant, kacenka kahounova to us, a singer as well, and then we all joyfully began working, and we worked truly hard, oh, if you only knew the sweet girl dana houtkova, when she starts working she is unstoppable, we began singing soon after five and we sung all the way to dinner time, i am not sure if we had a one or two hour break for that, and after dinner, we chatted a bit and sang till late in the night on the dining rooms veranda, situated in the magic river garden. and so we sang all the way through the whole of gods saturday and till two in afternoon on sunday. yes, it was a lovely singing adventure all the way long.
early saturday night, when the nearby old church's lookout tower was closed for public, it was our time to climb up on the awkward stairs and sing all the songs we had learned, for all the public present on the old town square and for the audience of people who had attended the water colour course on the same weekend.
when lovely dana told us, that we were going to climb the tower, someone said, that there is no way that i was going to make it, and i said that i know what i can or cannot do, but they all agreed with that person and they were so sure, that i gave up on trying to change their minds and i decided to let actions speak instead of words. i was the last one to leave, so i would not be in anyone's way, and yes, they were right, the stairs were very awkward, but i managed to climb them anyway, slowly but surely i took each step one at a time, i did not worry about the next one ahead of me, and soon sweet dana caught up with me and she gave me a helping hand, and it was a magic climb, like when two little girls are playing (having a good time). before we knew it, we had reached our destination, the top of the tower, and in a few seconds we were all singing at the top of our voices, as always along with dana's guitar. i sang with a great joy and that joy of mine filled up my soul and i so much enjoyed singing out from the top of the lookout tower to our audience, for myself, for our choir and god.
after we all got down from the tower and gathered in the library, i sat on my chair and i still felt the awe in my soul from the previous tower experience and when my eyes finally met up with others also sitting in their places, i was surprised of their expressions of adornment in the eyes of my fellow singers, and it dawned to me that it was about the stair climbing, and i may say that my ability to do so had taken their breath away. and sweet dana had a longer speech of admirment concerning my personality, and that, plus the expression of the others after i had descended the tower, touched me deeply and pleased me.
soon after i was touched again; our choir sang one song prior to the opening of an art exhibition of the pictures drawn by the people from the water colour course, and then we looked at the pictures, and i was touched by their beauty and i cried tears of joy. i was also brought to tears by a speech given by one of the teachers of the painting course, a very sweet girl, who used to sit with us after dinner on the terrace of the lovely garden and she chatted and sang with us as well. i forget her name, but i will never forget her.
on sunday after the lunch we sang and our songs were recorded. i was curious how the recording of the music was going to be made, but at the end we had not even noticed that we were being recorded, all that was needed was a laptop and a tiny microphone. and only a few days after the course the cd with songs arrived by post to me. during the recording of the cd, each of us also sang a little solo piece, and it took me a bit of time before i was able to do so in front of so many people, but i didn't give up and finally i made it, it was for me a big achievement and i cried with tears of joy once more, and then i sang with greater joy then before.
the singing with right brain hemisphere course was by far outnumbered by women, only one man attended
i took part in this course because i love singing and on top of that, i had for a long time been dreaming of singing in a choir. i tried to be a part of a choir while i lived in sydney, but they were all held at night time, and that did not suit me, because i avoid night city scenes. singing is a part of my existence just like talking or breathing, but at times i used to be very uncomfortable with singing in front of others, especially unfamiliar ones. i never had a problem singing together with others, just solo. therefore i was hoping that thanks to singing with the right brain hemisphere i would be able to break this fear and feel free to sing whenever i want to. and that truly happened, i can now sing alone in front of anyone. i also discovered, that i love singing more than i thought and since the course i sing more often and with more zest than before.
me and teacher dana, we grew very fond of each other, it happened already when we were exchanging emails concerning the course formalities. meeting her was a most beautiful gift which i took back with me from the singing weekend in telc, and carry with love in my soul.
when it was finally time to leave and say goodbye, i was singing in my mind and then aloud, a little from one of our songs: oh, my god, i do not want to go home.
i got a lift to prague with a very lovely girl, hanicka (who was also on the singing course), we had a very great conversation, and she took me all the way to the central railway station, she even took a longer way to show me where her home is. we exchanged a few emails, but then my email did not get delivered, i tried a few times without success, i owed her a reply. i only hope that one day our destinies will cross paths again. she also grew close to my heart and i enjoy recalling our time together
and not only the time spent with her, but also with all those i had the pleasure of singing along with, they all truly enriched my life.
LIFE IS BEAUTIFUL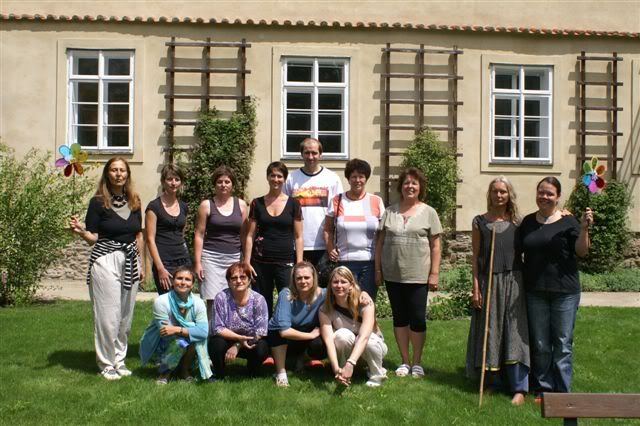 the weekend choir at telc. me and dana houtkova are standing a bit separately, which we were not aware of, but we surely knew, that we were an inseparable pair :)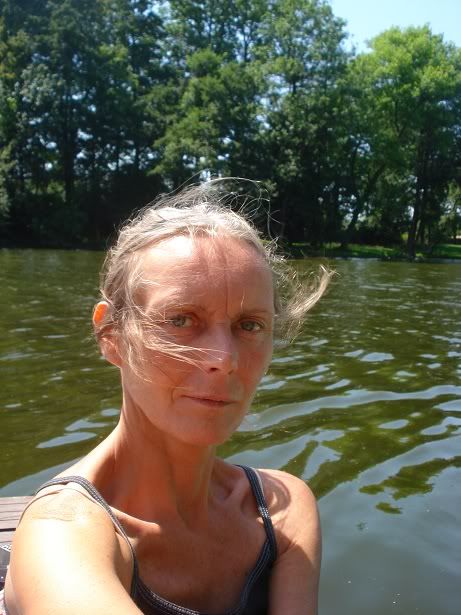 me and telc's river in the garden of the former ancient monastery, my soul was in awe, i was singing and i was looking forward to meet dana, my fellow students and to sing in the choir.
ps: i ate my yummy apricots, lychees, watermelon and bananas separately, the others had their meals booked with the course.